Groveneer receives distinction for high design quality in the Red Dot Award: Product Design 2019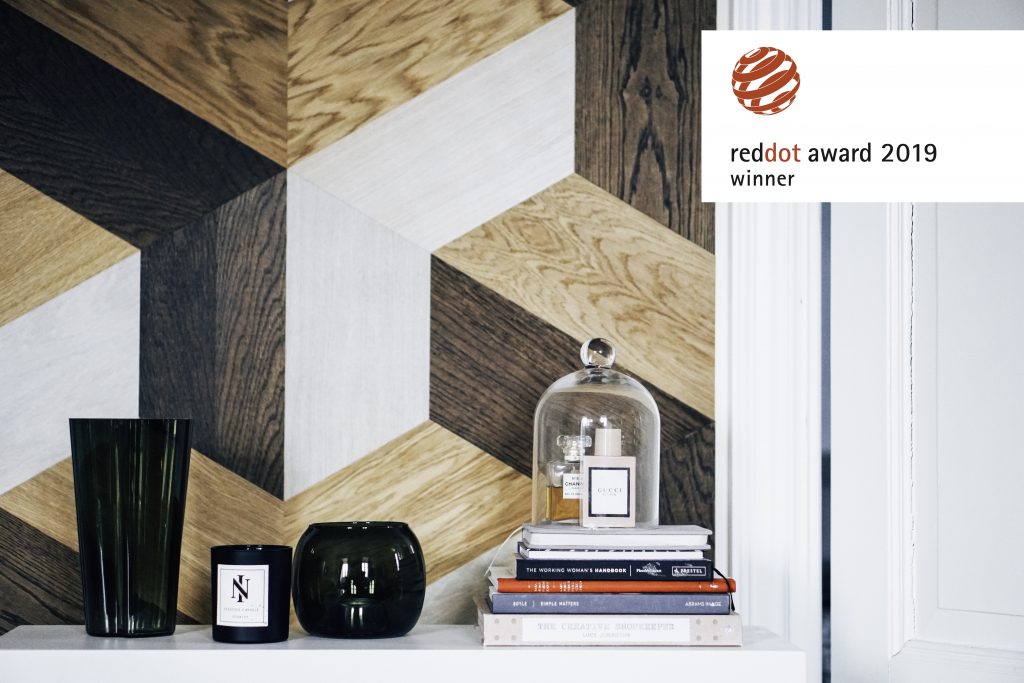 Mihkel Masso and Karl Saluveer together with Groveneer OÜ have won an award in the Red Dot Award: Product Design 2019. Groveneer: wooden self-adhesive wall coverings received the Red Dot, which the renowned jury only awards to products that feature an outstanding design.

Groveneer is "peel and paste" wooden wall covering material that enables users to create personalised patterns out of natural wood with minimal time and waste – a self-adhesive oak veneer that is finished with durable hard-wax oil.
Groveneer comes in different shapes and colors that can be combined to create unique patterns. Variety of possible outcomes and easy installation make it a perfect solution for decorating homes and offices.
Groveneer is made of natural wood, treated mechanically to resist changes in indoor climate, and finished with high-quality hard wax oil. Groveneer is designed by Mihkel Masso and Karl Saluveer.

Design quality is the common factor for award-winning products
"I would like to congratulate the laureates sincerely on their wonderful success. The fact that their products were able to satisfy the strict criteria of the jury bears testimony to their award-winning design quality. The laureates are thus setting key trends in the design industry and are showing where future directions may lead," said Professor Dr. Peter Zec, founder and CEO of Red Dot, in reference to the winners.

Experience and expertise get straight to the point
The Red Dot Award: Product Design is one of the world's largest design competitions. In 2019, designers and manufacturers from 55 countries entered more than 5,500 products in the competition. The international jury comprises experienced experts from different disciplines and has been convening for more than 60 years in order to select the year's best designs. During an adjudication process that spans several days, they try out the products, discuss them and ultimately reach a well-founded decision regarding the design quality of the entries. True to the motto "In search of good design and innovation", their assessment focuses on criteria such as the level of innovation, functionality, formal quality, longevity and ergonomics.

Success to be celebrated at the award ceremony
On 8 July 2019, Mihkel Masso, Karl Saluveer and Kaupo Kala (CEO of Groveneer) will celebrate their success during the award ceremony. The international design scene will gather in Essen's Aalto-Theater as part of the Red Dot Gala. At the subsequent Designers' Night party, the Red Dot laureates will receive their certificates and Groveneer will join the exhibition "Design on Stage" in the Red Dot Design Museum Essen, which presents all of the award-winning products. From that date, Groveneer will also be on show in the Red Dot Design Yearbook, online and in the Red Dot Design App.

Mihkel Masso, Mag.Des.Ind. – co-founder and head of design of Groveneer
Mihkel has previously gained Red Dot Product Design 2015: Honourable mention for design of electric Sauna heater Huum Drop. Currently working as a freelance industrial designer and associate professor at the Estonian Academy of Arts at departments of interior architecture and product design.
Karl Saluveer – co-founder and brand manager of Groveneer
Karl is a recognized design and communication expert. He is the co-founder of Design Agency of Year 2018 – Hmmm Creative Studio. He has won over 30 local and international design awards.
Groveneer is designed and manufactured in Estonia. Groveneer OÜ was founded in 2017 and is focused on developing self-adhesive natural wood wall coverings.
About the Red Dot Design Award:
In order to appraise the wide scope of design in a professional manner, the Red Dot Design Award is broken down into the three distinct disciplines: the Red Dot Award: Product Design, Red Dot Award: Brands & Communication Design and Red Dot Award: Design Concept. With more than 18,000 submissions, the Red Dot Award is one of the largest design competitions in the world. In 1955, a jury convened for the first time to assess the best designs of the day. The name and brand of the award were developed in the 1990s by Red Dot CEO, Professor Dr. Peter Zec. Since then, the sought-after Red Dot is the revered international seal of outstanding design quality.

The winners are presented in yearbooks, museums and online.
Further information: www.red-dot.org.