The first extensive showcase of Estonian design in Japan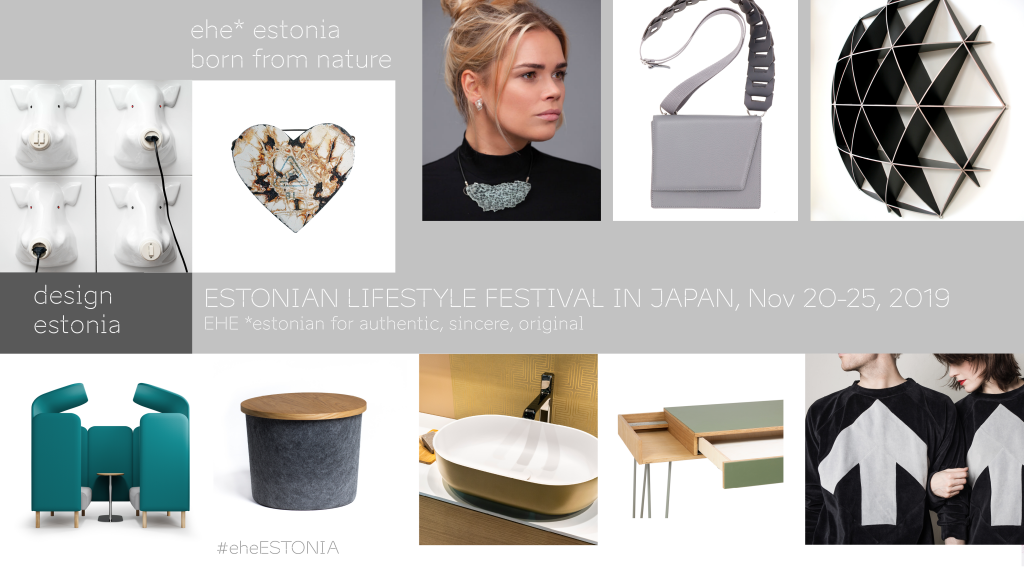 More than 30 Estonian designer-makers and design lead companies will be represented at the Interior Lifestyle Living Fair in Tokyo in 2019 as well as during Estonian Design and Lifestyle events in Yokohama. Participants of those events will include established names as well as promising young artists who are gaining recognition both in Estonia and abroad.
In cooperation with Enterprise Estonia and the Ministry of Culture, the Estonian Association of Designers (EAD) has initiated a project to introduce Estonian design to foreign countries and present a cross-section of the contemporary design world in Estonia. The exhibits include advanced industrial products and demonstrate the successful combination of a rich visual heritage with the very latest technologies and solutions.
The EAD strives to boost cultural exchanges and present the achievements of Estonia as a rapidly developing design country through foreign exhibitions. In doing so, the association creates networking opportunities for Estonian product designers and production companies who want to reach the international arena.
The collection includes products related to home furnishing: textiles, furniture, lighting, ceramics, glass and fashion accessories including bags, shoes, jewellery and gift items.
The crisp collection is characterized by minimalist style, natural materials, sustainability, ingenious solutions and humour.
In 2014, the EAD created a concept titled "Size Doesn't Matter" for the purposes of cultural exchange and export of Estonian design; the concept highlights the contrast of the small size of Estonia with the density of designers and the abundance of their achievements. The concept has been presented as an exhibition in Belgium, Austria, Sweden, UK, France, Italy, the USA and beyond. The concept is adapted to suit different geographical areas. For the Japanese market, the concept is called ehe* Estonia. It was created in collaboration with Japanese PR experts. Hopefully, the campaign will aid with business matchmaking and will make Estonia known as a creative country with unique air of its own.
Interior Lifestyle is international trade fairs which propose lifestyle concepts in interior design markets starting in Tokyo and expanding into markets all around the world. The fair welcomes over 800 exhibitors with a variety of products such as designed gift items, tableware, foods, jewelry and high-end furniture. The first IFFT/Interior Lifestyle Living took place in 2008, combining IFFT (International Furniture Fair Tokyo) with the concept of Interior Lifestyle Tokyo, and becoming the leading trade fair for the Japanese high-end interior market.
Estonian Pavilion
Hall number: South Hall 3
Stand number: 4F-01
https://ifft-interiorlifestyle-living.jp.messefrankfurt.com/tokyo/en.html
THE TEAM: Ilona Gurjanova – the curator and project manager (Estonian Association of Designers, president), Kristel Oitmaa – project manager, Janne Funk – project manager
PR AND SPECIAL SUPPORT: Miho Kawamura (daily press), Hiroyoshi Iwano (yourmarks inc.), Hitomi Iwano (yourmarks inc.), Hisashi Ikai, Takuya Matsuda
SPECIAL THANKS TO: Yokohama Municipality, Kaspar Koppel (Enterprise Estonia), Makoto Suhara (Enterprise Estonia, Japan), Anu-Maaja Pallok (Ministry of Culture)
The project is partly funded by Enterprise Estonia from the European Regional Development Fund's "Development of Creative Industries" measure.
Contact: edl@edl.ee
__________________________________________________________________________
IFFT / interiorlifestyle living 2019
会期: 2019 年 11 月 20 日(水)-22 日(金)
会場: 東京ビックサイト 南 ホール 3 4F- 01
URL: i t-interiorlifestyle-living.jp.messefrankfurt.com/tokyo/ja.html
インテリア・デザインの国際見本市「IFFT/ インテリア ライフスタイル リビング 」に出展。 エストニアから約 30 組のメーカーや若手デザイナーが揃い、エストニアデザインの今をご
Estonian Lifestyle Festival
紹介します。
会期: 2019 年 11 月 23 日(土)24 日(日) 会場: 象の鼻テラス
横浜市中区海岸通 1 丁目 みなとみらい線「日本大通り駅」出口1より徒歩約 3 分、 出口 2 より徒歩約 5 分
入場: 無料
URL: zounohana.com
横浜・象の鼻テラスでは、2 日間に渡り「エストニア ライフスタイルフェスティバル」を開催。 デザインやライフスタイルアイテムの販売の他、エストニアのフード、民俗音楽、ドキュメ ンタリームービー、ワークショップなどが楽しめます。
「東欧・バルト三国 やさしい冬時間」
会期: 2019 年 11 月 20 日(水 ) 〜 11 月 25 日(月)6 日間 会場: 阪急うめだ本店 9 階 催場
大阪府大阪市北区角田町 8-7 URL: hankyu-dept.co.jp
阪急うめだ本店で開催するバルト三国のフェアでは、ファッションやジュエリーを中心と したエストニアのブランドが参加します。
MEDIA
1) Catalogue: https://bit.ly/32CJF8Q
2) Casa Brutus, 2019: https://bit.ly/2BHe2zH
3) Nikkei Design, 2019: https://bit.ly/2Oc5cQz